SUPERFLY: Endangered UK Flora & Fauna, with Silverhill Press
This is a series of portraits of things that crawl, those that fly, some that sprout and others who sting. All of whom are noted as endangered in the UK.
The drawings were made originally as hand drawn seed packets, where they buyer bought a 'wildflower glitter painting', that bore the letters LOVE, drawn on handmade plantable seed paper, which when the packet was opened, its contents were to be ripped up and scattered to create a wildflower meadow, whether it be in a plant pot or a grass verge. Whilst the seed packet was to be kept and to become a piece of art in its own right.
Ultimately the choice is with the buyer as to destroy the art inside and help to save the world, or whether to keep the piece intact and save the 'investment'
With my forthcoming book, in collaboration with Silverhill Press,  the portraits will be made as drawings on sustainable cotton rag paper and will have accompanying text. I intend to include a printed seed packet, with one or more of the illustrations depicted and that will contain wildflower seeds native to the UK.
60 if She's a Day
In April 2019, I decided to celebrate my 60th birthday with a portrait project 60 if She's a Day, aiming to get 60 people each to commission a portrait. I sent out an email to prospective collaborators, mostly people I knew, through social media. Those who chose to become part of the project, were then asked to supply a photograph, give me a title and a context to their choice of subject. A minimal price was set for each drawing, making the collaboration widely accessible. Those on low income being able pay in instalments. The project is ongoing and when all 60 are completed the drawings will be displayed as a frieze, complete with their titles and stories, where the work will be shown, stories swapped and memories shared.
I am making this celebratory piece to mark my career to date, still working, creating new projects and making a living as an artist. It seemed a good way of reinvesting, sharing my craft and encouraging people to commission art from a living artist. This is as much a part of the work as the production of the piece.
This project has turned out to be an incredible graphic love letter between my collaborators, those that they love and me, describing their lives, with families remembered, animals revered and our joint social history noted. I work from personal photos supplied by this very diverse range of patrons, using images from their collections.
New Portraits from I DRAW DOGS FOR MONEY inc. The PencilVainia Project
Here is the latest from IDDFM inc. The PencilVainia Project, The Outside World's  commissioned portrait service. The work is drawn from photographs supplied by the client, which gives the work a more intimate association with the work, as these are often informal and private moments. I ask a client to send me several images via an email, after which I choose a photo to work from. I like the element of surprise that this gives, as the client does not know what the final drawing will look like until they receive the finished work.
I work to international paper sizes, the smallest I have done so far is A6 which is approximately 6 x 4 inches. The largest commissioned work, is generally A1, which is approx 46 x 33 inches. The portraits a black and white and are made using graphite sticks and pencil, with a variety of rubbers and erasers. Although recently I have been commissioned to make coloured drawings, using pencils.
Here are the latest examples of portraits made for clients from I DRAW DOGS FOR MONEY  inc. The PencilVainia Project.
This drawing Tilly and Her Dog was a commissioned to celebrate the 10th birthday of this little girl and her best friend. With this work i tried to capture that pre teen moment, with the wind in her hair, her dog by her side, resplendent in her summer school uniform, with Hastings Pier in the background.
A second portrait is Elliot & Sid
This portrait is Elliot sleeping while Sid the cat keeps a watchful eye for anything that may disturb his owner. The portrait was commissioned to mark the death of the elderly cat, who had seen his human through hard times and some good.
For any enquiries about commissioning a portrait please do not hesitate to contact me
That was the year that was…
Looking back at 2017 to give you a glimpse of what has been going on at The Outside World and its associated projects.
October 2017
The Invisible Woman meets… #me too
The Invisible Woman digital collage project was resumed in October of 2017 when the phrase 'Me Too' coined by social activist Tarana Burke, spread virally as the hashtag #metoo, made popular by actress Alyssa Milano.to denounce sexual assault and harassment, in the wake of the Harvey Weinstein sexual misconduct allegations. Women of all backgrounds, including high-profile Hollywood celebrities including Gwyneth Paltrow, Ashley Judd, Reese Witherspoon and many others began to tweet it to publicise their experiences of misogyny and sexual exploitation.
With the original format of The Invisible Woman series, always the same green eyes posted onto the face of the subject, creating a veil like appearance of the eyes of truth beneath a veil of normality. The aim of the project is to support the undervalued, recognise the mistreated, highlight the downtrodden and give a voice to the overlooked, through the device of an unflinching stare that directly addresses the viewer and demands 'LOOK AT ME'. This ongoing series works as a frieze of identical 6 x 4 photographs and which is published on social media as events happen, challenges the idea of both the selfie and self-portraiture, bringing it into the political arena.
July/August 2017
Herrick Gallery
It's A Hard World For Little Things', was shown with a new drawing to accompany the original show.  It was curated by Alice Herrick, who brought a fresh dynamism to the two series of drawings, with the both complete sets seen together for the first time. These were shown with three sculptures from the 'Soft Toy' series.
June and September 2017
ACBF London and Folkestone
Every year I reform The Outside World AllStars and take a charabanc to the Art Car Boot Fair. The All Stars are an ever-changing band of artists and designers who come together for the fun and frolics that go along with being part of the ACBF, both in London and this year in Folkestone.
November 2017
Mother
This year I added two new colour portraits to a series of works that I have been making of my mother over many years. Sadly in 2015 my mother died, these latest drawings show her towards the end of her life and into her final hours.
May 2016- May 2017
The Hands of Dead Celebrities: Class of 2016
In 2017 I have been working on a multimedia exhibition that explores our relationship with death and
celebrity through drawing, sculpture, sound, smell, text and talk. It depicts cultural influencers who died throughout 2016. The frieze begins with David Bowie and ends with Debbie Reynolds.
It is the culmination of a year's studio work, portraying musicians, writers, actors, politicians, scientists, astronauts et al. Each portrait has its own
#hashtag biography relating to the life of its subject. There will be a collaborative element to the show, where invited artists The Outside World AllStars, will explore various aspects of the concept.
The exhibition is aimed at a diverse audience, to be experienced by a broad demographic. Its aim, in part, is dependent on the relationship between viewer and subject matter and as such, is inclusive stretching beyond the regular art gallery crowd, stimulating interest, provoking imagination, and stirring emotions.
2018
Start of new projects and forecast for the year.
My main objective for 2018 is two new exhibitions, in London and regional galleries. These are The Hands of Dead Celebrities: Class of 2016 and The Invisible Woman. Please keeps checking the website for  further details of these forthcoming shows.
I will be starting a new series of drawings soon, but am keeping it under my hat just now.
The Outside World AllStars Christmas Knees Up
The brand new line up of TOW AllStars are limbering up to invite you to enjoy a warming glass of mulled cider and some seasonal snacks, provided by our in-house chef Craig Hunt
We will have a works by some old faces and some new including the magnificently wry works by the Invincible Typographical Twins  Pixel Press.
A new face at the stable is the amazing portrait photographer Peter Clark.
Next up is the one and only Sadie Hennessy, who brings with her a bawdy collection of naughtiness and political comment, with a dose of popular culture, thrown in.
Kelly Anne Davitt is an incredible and inspiring painter who (she will hate me saying this but) puts the Fun in Feminism. Her works play with the political, the painterly and the populist.
Matty Skylab's Disqo Conqrette combo with Astrid Dangoor bring their special brand of musical mayhem with their limited edition CD's each of which comes in an individual hand finished collage collectable packaging.
Sarah Wilson at Winkbaby will appeal to the connoisseurs of the under threes world. She will be selling some of her beautiful silk all in one baby suits, made ethically in Bangladesh and ideal for the winter months ahead.
Then there's me, what more can I tell you other than there will be some original unseen drawings and prints on sale, plus a few Secret Santa treats in store.  Not only that there is my SECRET PROJECT….
We will also be making a donation to our local food bank.
Please join us on the 9th December,
Unit 3, 14-18 Shore Road, E9 7TA
The Hands that Shook the World: Class of 2017
A short series of images that tells the stories of the famous and the infamous  who have died in 2017. It salutes the brave, honours the heroes and mourns the magnificent characters and personalities who have left the world this year.  It also notes the murderers, mafiosi, malfaisants and nar'do wells that have passed on without celebration.  Each figure is described in a short #hashtag biography.
Salvatore 'Toto' Riina  16/11/1930-17/11.2017  #mobster #Italian/Sicilian  #ilcapodicapi  #fugitive  #corleonesi  #murder #narcotics  #extortion  #loanshark  C.O.D.Not Disclosed
Charles Manson 12/11/1934-17/11/2017  #american #cultleader #mansonfamily #murderer #helterskelter #racewar #emblemofinsanity #victims #WojcechFrykowski #SharonTate #StevenParent #JaySebbing #AbigailFolger C.O.D Natural Causes
Ian Brady 02/01/1938-15/05/2017 #moorsmurders #scottish #fivechildren #victims #saddleworthmoor #PaulineReade #KeithBennet #LesleyAnnDowney #JohnKilbride #EdwardEvans #nomusic/noceremony #buriedatsea C.O.D. Cor Pulmonale caused by COPD
Herrick Gallery is proud to present It's A Hard World For Little Things , an exhibition consisting of two series of
large-scale graphite drawings on paper and three sculptures by C.A.Halpin. The works are inspired by the title
of a scene in the film The Night of the Hunter. The exhibition was originally conceived as a multimedia show,
with a choreographed performance and musical score at Angus-Hughes Gallery, London, 2015, with the
second part at the V&A Museum of Childhood in 2016. This new show at Herrick Gallery will be the first time
that all of the drawings have been shown together.
The first set of drawings depicts an owl stalking a young bunny in the dead of night. The owl's wings stretch as
it leaves its perch to swoop down onto the unsuspecting creature below. The drawings animate the scene with
images taken directly from the film. The drawings are black and brooding with the graphite pushed into the
paper with physical force, while the white marks are dragged from the background as they are rubbed and
wrought from the intensity of the oily black waxy marks. The second series of drawings explore the concept of
the sentence 'It's a hard world for little things', uttered by Lillian Gish, the aged heroine of the film, who saves
the children from a bad end.
There are three sculptures to accompany the drawings, two black painted figures, made from found stuffed
toys sewn together and sculpted to form the character of Preacher and his horse who follow the children as
they flee from danger. There is a third piece which is a rag doll stuffed with dollar bills, this piece represents
the burden that the children in the film carry and what puts them in danger. The use of children's toys to
produce the monster that haunts their dreams and lurks in the shadows of every child's imagination, that of
the bogeyman.
The Night of the Hunter  directed in 1955 by Charles Laughton, is a mother goose tale of good and evil, set in
the Great Depression of 1930's America, seen through the eyes of two runaway children as they flee from the
harmful grasp of their menacing stepfather, along the great Ohio river. The film stars Robert Mitchum as
Preacher Harry Powell and Lillian Gish as Rachel Cooper, with Shelley Winters as Willa Harper. In 1992 it was
selected by the US the Library of Congress for preservation in the National Film Registry deemed 'culturally,
historically or aesthetically significant'.
Halpin has been a practicing artist since 1983 and has worked in a broad spectrum in 2D, 3D, moving image &
performance. She has exhibited widely and has lived and worked as an artist/animation director in London,
Barcelona, Madrid and Paris. Halpin also ran The Outside World Gallery from 1996-2012, a small independent
artist led space in Shoreditch. She has an M.A. in Illustration from the Royal College of Art and C.N.A.A.
Postgraduate Diploma in Specialist Printmaking from Brighton Polytechnic and has also completed artist
residencies in England, Spain and France.
Recent exhibitions include The Hands of Dead Celebrities , The Bargehouse; Finding 50 Fridas , East End Prints;
It's A Hard World For Little Things #2,  V&A Museum of Childhood; It's A Hard World For Little Things #1  Angus-
Hughes Gallery; The Invisible Woman , Hantverk Found Gallery, Margate.
Gallery opening times: Wednesday – Saturday, 12 – 6pm
The Herrick Gallery Opening – Thursday 27th July 2017
Jeremy Corbyn dot-to-dot Vote Labour
The Hands of Dead Celebrities: 2016
Exhibition at The Barge House, 46a De Beauvoir Crescent, London N1 5RY. Opening 3rd November 2016 from
6 – 9 pm.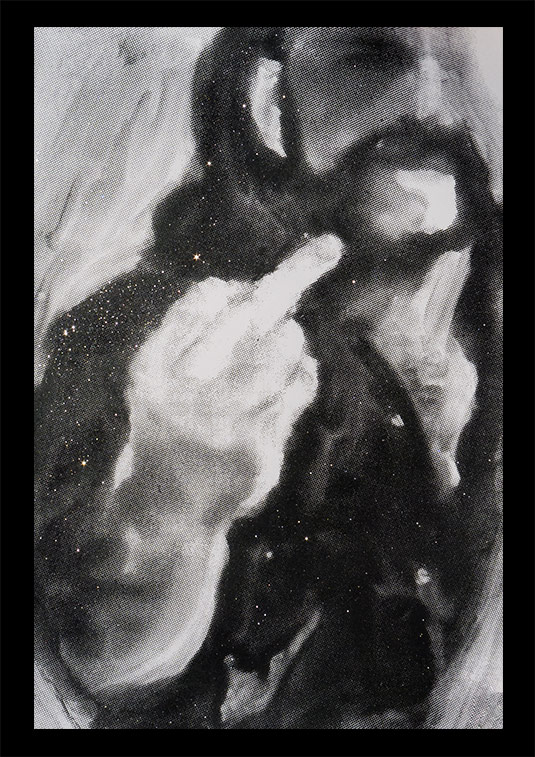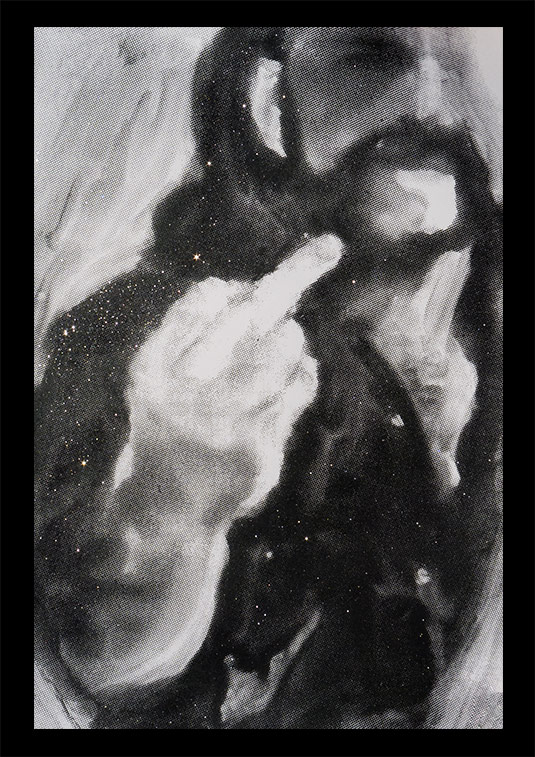 This is a series that celebrates the great and the good who have stormed the Pearly Gates in 2016. Bowie started a trend that was quickly followed by musicians, actors, comedians, writers and directors, as well as the sad death of politician Jo Cox. All are remembered in this ongoing series as famous faces continue for fall of the precarious perch that we call life.
The series addresses our relationship both with the status of celebrity and collective grief by using iconic images of the hands of the recently dead celebrities. The drawings relate directly to an idea of a moment in time, when the viewer 'knew' their hero and therefore now grieve for their own past and youthful ambitions as personified by the death of a well known personality.
The idea of using the Hands of Dead Celebrities began with the theme suggested at the Vauxhall Art Car Boot Fair 2016. Artists chose different ways of interpreting the idea and to make affordable pieces around this central idea. The frieze itself will be a register of those celebrities who have died since the beginning of 2016.
I DRAW DOGS FOR MONEY,  Dog Drawing Lessons for Adults
13th September 19.00-21.00
An introductory lesson on how to draw dogs like the Masters with renowned portrait artist I DRAW DOGS FOR MONEY. This is a two hour lesson at one of London's leading DOG FRIENDLY hotels, with materials included. The hotel's license does not allow children into the venue, but DOGS ARE WELCOME.
The class will be informal and fun as well as educative and instructive. The introductory class will be for two hours and will encompass different aspects of how to look, see and represent your dog, both from life and from a photograph.  It will be aimed at a wide range of ability, all you need is enthusiasm.
Drawing dogs will be more  of a question of learning the process of drawing and how to represent what you see and not what you think you are seeing.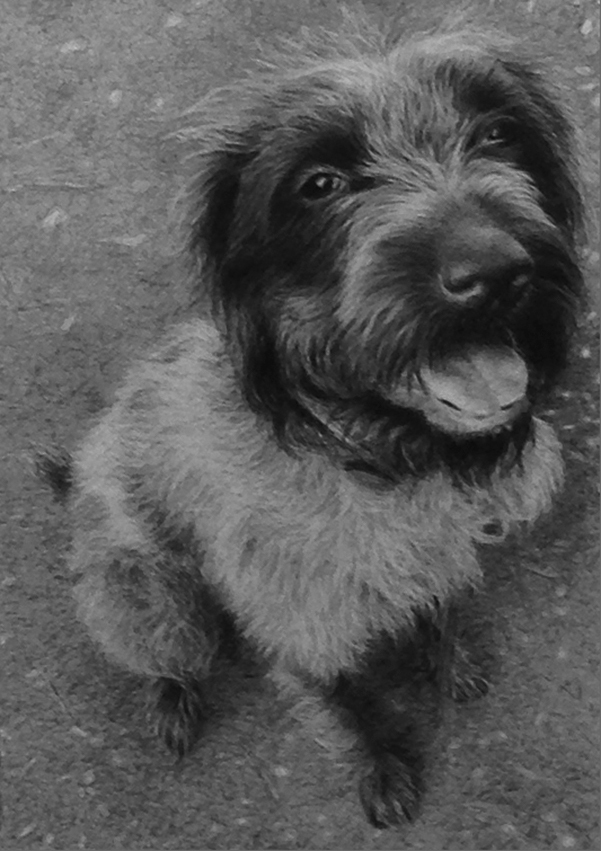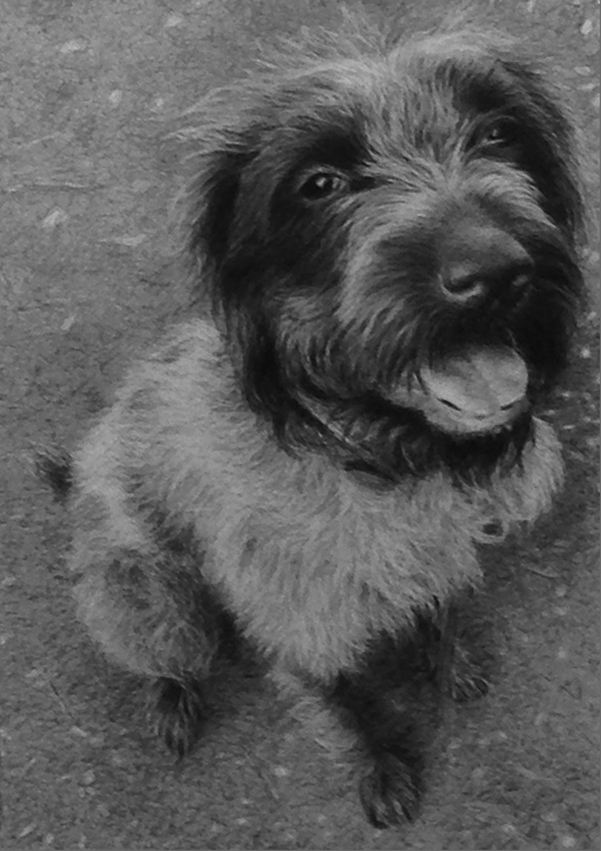 If you don't have a dog of your own then don't worry dog people are friendly and you will get to draw your neighbour's dog, in the class. You should consider it 'life drawing' but with dogs, everyone will get a good grounding of the in's and out's representing a dog whether sitting still or in movement.
Above all this class will be about  enjoying your time with your dog and looking at your dog in a different way and gaining another insight into the aspects of your relationship with your best friend. You might not come away with a masterpiece but you will leave knowing more about your dog than you did before.
A Little Bit About The Outside World Academy of the ARTS.
The TOW Academy is a long established spawning ground for the ever expanding firmament that forms The Outside World AllStars. At the Academy we don't issue certificates, we offer opportunities to learn, to teach and to enjoy the company of your peers. The Dean of the Academy has a long history of inspiring all ages and levels of ability, from infant to aged. Not all become fully fledged AllStars, but each becomes a twinkle in the Academy's eye.
The Class takes place at Miranda, ACE Hotel, 100 Shoreditch High Street, London E1 6JQ
https://www.acehotel.com/london/miranda
The two hours session costs £6.00 as an introductory offer, with materials included.
Dogs Welcome, but sadly under 18's are not.
The Hands of Dead Celebrities featured at Vauxhall Art Car Boot Fair 2016
It all started with poor old David Bowie, setting a sad trend as the first of a firmament of stars from the world of show biz and beyond. There were musicians, comedians, presenters, writers, wrong'uns, ailing boxers and tragically a murdered politician. What these people had in common is that they touched the hearts of the public and represented certain aspects of all of our lives.
As a tribute to the passing of such a plethora of talent I created the series The Hands of Dead Celebrities. The series was first shown at The Vauxhall Art Car Boot Fair 2016 http://www.artcarbootfair.com Sadly the series continues to grow as more and more celebs dismount from this mortal coil to the great Green Room in the sky.
'It's A Hard World For Little Things' an exhibition by C.A. Halpin at the internationally renowned V&A Museum of Childhood, London.
In this the second of a two-part series of exhibitions that addresses the subject of children as political and social beings on both the domestic and global stage. The first part was held at the Angus-Hughes Gallery in London in July/August of this year to much critical acclaim, and was recognised as an important event, both professionally and within a wider social context.
In the current political climate this series is a potent social commentary of the position of children and the burdens and responsibilities that they carry in a hostile adult world where they hold little or no power.
Drawings featured in the exhibition:
Girl Carrying Water, Graphite on Paper 2013
Throughout the world girls often trek long distances to fetch water for their families, who live without drinking water or sanitation. This heavy burden that girls carry as main water suppliers takes a long time and often means that girls do not have much time for regular education.
Lance Carries Miles, Graphite on Paper 2015
Lance aged 10 and Miles, 7 are brothers who live in East London. Lance carries his brother, who suffers from Cerebral Palsy and is unable to walk. The drawing portrays them still similar in size emphasising the care, delicacy and strength that even the very young feel towards a sibling in need.
Y = YELLOW, Graphite on Paper 2015
Himandri is 6 years old she lives in Oriya Basti Colony, Bhopal, close to a chemical factory that in 1984 suffered a massive gas leak, which left thousands dead and its survivors with permanently disabling injuries. She is portrayed with her blackboard emblazoned with Y=Yellow a colour that can symbolize self-esteem, confidence power and ambition.
Philippines Pieta, Graphite on Paper 2013
This image shows a boy carrying a toddler in the aftermath of the terrible monsoon that struck the Philippines in 2012 and which in turn led to the destruction of thousands of homes and the displacement of its people. The boy looks directly at the viewer as he rescues this very distressed child, exuding a knowledge and maturity in a time of crisis.
The Little Things, Graphite on Paper 2015
Georgie and Elvis are children that are very close in age and who very early on in life had to grow up without their mother. They have always shown great love and support to each other and moreover to their father. They are pictured chatting in their bunk beds with a giant Elvis looking down on his tiny older sister.
The Ballad of Ricky O'Rourke, Graphite on Paper 2012
Part one of a triptych that charts the life of Ricky O'Rourke a young runaway who ended up living and dying on the streets of London. He is portrayed as a toddler like any other, with a name, a family and a future. The words that form part of the image are from a letter sent to the artist by Ricky's parents following his death.
BLACK EYED SUSAN an Exhibition of Paintings

Arts Club East, 64 Shoreditch High St. E1 6JJ
Current show

Tuesday-Saturday 4pm-1am.
Non members must view by appointment.
Contact: C.A. Halpin
BLACK EYED SUSAN opens 22nd October at Shoreditch's newest members club Arts Club East.  This intimate, yet traditional Truman Brewery designed function room above a pub, plays host to all art forms from music and dance to poetry, film and art exhibitions. BLACK EYED SUSAN is the second in their rolling programme of month long shows by the club's members and invited artists.  I have been invited for their second show and have chosen the smaller pieces in the series.
The series of 13 paintings dates from 2009-2012 that were last shown in 2012. The work continues Halpin's long established way of working that explores the concept of portraiture through found words, images and notes.
BLACK EYED SUSAN was originally intended as a collaborative venture with then partner, artists and musician Mat Ducasse. This particular series uses personal letters, intimate and erotic drawings, notes and images made by the pair.
BES Do Not Believe Them 2012 Acrylic inks and pens on canvas is an  square field of intense colours whose comet like tails streak toward a green filled void. Pock marked planets with their phosphorescent stars are drawn in faster and faster as they rush to the centre of a black hole of emotion. The original painting was begun in 2009 by Ducasse that began as a image of splashes and brush strokes at the centre of which was a green eye that seemed to question Ducasse's trust in forces beyond his control, both on a personal and a global stage. By the time Halpin took up the painting later that year she felt the clue to its revival was to animate the canvas to give it a dynamic sense of timing and energy this was to become the first BLACK EYED SUSAN painting that later went on to become of a larger series. Other paintings including BES #1 and BES #3 were begun by both and worked on together in the early stages in 2009 and later finished in 2010 by Halpin, when the rest of the series was begun. The entire series was worked on by Halpin at the same time, with paintings being picked up, worked on and ideas left to brew as another canvas was started put down to be picked up and reworked. with the 13 paintings being completed at once in 2012
The works chart the history of a relationship from the passion and pleasure at the beginning, the storytelling, the messing describing the passion and tensions as tales were told and taboos broken, through to the intensity, anger and loss at the end of the affair.  The written messages and images contained within the paintings are layered over and turned around until they become abstracted, distorted and almost impossible to read, yet giving the viewer an idea that they can be deciphered.
The majority of the paintings, were begun in unison, were worked on and were made by turning the canvas as the painting progressed until the images have no top or bottom, left or right with the viewer guided through this cathartic tale only by the forms that emerge and disappear in the fashion in which they painted.
The paintings and their original drawings owe a lot to the sounds that were incorporated in the concrete poetry written on scraps, scrawled with intentions accompanied by it home made musical score. The images were made as static animations that would be digitally animated from one to the next with BES Do Not Believe Them at the beginning and the end of the loop.  This stage of the project has yet to be realized.
C.A.Halpin and Mat Ducasse continue to collaborate on projects currently as part of The Outside World All Stars, including It's A Hard World For Little Things #2 multimedia exhibition, to be held at the V&A Museum of Childhood in 2016.
Original paintings and prints of the works are available from the artist.
Press Release
'It's A Hard World For Little Things' comprises two multimedia exhibitions, by C.A. Halpin.
Exhibition One was at The Angus-Hughes Gallery from 3rd July to 2nd August 2015.
Exhibition Two will be at The V&A Museum of Childhood from 9th January to 17th July 2016.
The exhibitions that incorporate large scale drawings, sculpture, sound, performance and projection, are a positive portrayal of children carrying anything, from secrets to physical, psychological or societal loads. The portraits address both the domestic and the global politics of children and their responsibilities and how they deal with these every day.
The concept is inspired by the 1955 film 'The Night of the Hunter', a story of good and evil, seen through the eyes of two runaway orphaned children. While Halpin's graphic works echo the film in style and tone, they lack any sentimentality in acknowledging young people's strength and fortitude as they deal with life's challenges. Halpin's monumental graphite drawings render the ordinariness of their burdens iconic and cinematic, elevating mundane struggles to mythical storytelling. The themes that run throughout the shows are further explored in a soundscape with Charles Laughton's abridged re reading of the book by Davis Grubb, to be accompanied by a choreographed performance and a projection of the original film.
The show highlights Halpin's typically collaborative approach, with an ever-changing group of artists, musicians and performers, here named 'The Outside World All Stars', including composer Mat Ducasse, voice artist Fenella Fudge, Royal Ballet dancer and choreographer Vanessa Fenton and projections from Rucksack Cinema. There is also input from typographers Pixel Press and photographers including Alixandra Fazzina and Claire Lawrie, while The Bhopal Medical Appeal charity have allowed access to their photographic archives as reference.
'It's A Hard World For Little Things' is arranged across two multimedia exhibitions, with Halpin presenting a number of large-scale graphite drawings, which articulate the pressures and strains on young children, carrying the burden of the adult world's expectations and hopes on their shoulders. Driven by their primal instincts of survival and preternatural resilience, the young subjects of her drawings demonstrate an innate humanity and kindness. But the dryness of Halpin's eye and her firm, bold lines avoid cloying sentimentality. Rather, her work as ever, brings forth a remarkable alliance of technical mastery and poignant, apposite subject matter to reflect upon a universal human condition.
Arsalan Mohammad, Editor, Harper's Bazaar Art
 C.A. Halpin is a Londoner who lives and works firmly in the East End, amongst the landmarks and people that created Britart, the most successful British art movement for generations. A startlingly talented draughtswoman, that unfashionable but impressive activity, she is absolutely not caught in the past, and works across many media in a playful and unpredictable manner.  Her thinking is utterly contemporary – finding connections with witty ease.  Her meticulous eye, accurate hand and tender heart will ensure that her work will achieve the prominence it deserves.  
Guy Kennaway, Writer & Journalist
 At first glance upon the drawings, we here filled with an instantaneous combination of intense pain and extreme pride. Pain for the loss of our beloved Ricky and pride at how wonderfully Cate had immortalised him.
Grainne O'Rourke, Oldest sister of Ricky O'Rourke the homeless subject of the drawings.
The exhibitions features The Outside World All Stars:
Mat Ducasse, Vanessa Fenton & The Little Things,  Julieta Hernández Adame, David Vassie.